Summer 2023 Domestic and International Mint Market Report
Essex Laboratories serves its valuable customer base by developing high quality mint oils sourced from both domestic and international growers/distributors. We are pleased to bring you this report, which summarizes general activity and trends that affect the entirety of our global product sourcing program. Information presented reflects cooperative input from growers, partners, and suppliers, and we are very grateful to be able to pass it along.
Because different regions respond differently to our requests for information, we cannot guarantee that all presented information (and more particularly, the speculative projections we make with the information at hand) is 100% accurate.
While global health threats have thankfully continued to normalize, other current issues like global inflation on goods/services and regional conflict are having their own impact on the global supply chain and costs of goods.
Domestic Market Activity
Current activity in the domestic mint market is more consistent across growing regions but is still variable by species, so will be reviewed by species in this section.
Peppermint
Peppermint acres continue to be on a slight decline from 2022, for several reasons. First, several years of lower prices due to higher grower held inventory have predictably resulted in acres being shifted to other crops, as held inventory levels have been consumed. While fewer regions are experiencing irrigation restrictions, others are still lacking disease free ground into which peppermint can be rotated.
Second, the combination of inflationary pressure that has raised mint input costs 30-50% and the concurrent price strength of commodities like corn or wheat have shifted grower focus to less input-reliant crops that offer a better return.
Considering all of these factors, contract and spot prices for peppermint this year will command a better price to the grower going forward for mint to be cost sustainable to produce.  The question is how high will prices reach. It's been known for some time that  peppermint prices were likely to increase, especially for contracted volumes. However, the escalation of input costs has accelerated this trend and exacerbated how significant it will be.
Current estimates show that conventional peppermint will likely command $53-58/kg, at least in the short-term. This validates the prognosis offered in this same report a year ago, at which point present inflationary values were just starting to be felt at the grower level. Subsequent conservative contracting by mint producers (due to price) has resulted in a maintained decline in production, which will hopefully experience at least some reversal in response to better grower pricing. There has also been an increase in planted acres for proprietary peppermints in response to prices, but the ultimate balance between conventional and proprietary mint is yet to be determined.
Native Spearmint
Recent waning demand from buyers has pressured growers to reduce planted acres to mitigate rising held volumes. The Spearmint Marketing Order has also maintained reduced saleable percentages (currently 40%) as a continued buffer to price volatility but acreage changes are the most stabilizing price influencers for growers in the region. Overall, there are good spot opportunities to purchase open oil but contract prices are pushing towards $42-44/kg to offset higher input costs.
Scotch Spearmint
It is projected that Scotch spearmint acreage will continue to decline in the Yakima region. This trend continues to be influenced by the relatively abundant supply of Scotch spearmint, particularly from Canada, as well as better returns from alternative crops. Declining supply (both held and in the ground for the 2022 crop year) of Scotch spearmint, normally expected to keep pricing relatively flat, may still be overcome by rising grower costs requiring prices to follow in kind. Estimates are that new contract prices could approach $42-44/kg due to this price pressure.
International Market Activity
South America
Peppermint production in South America continues to decline, due to the influence of Verticillium wilt and flat grower pricing that has followed recent trends in the US market. Total production has waned to less than 5 MT. It is expected that growing interest in spearmint production, coupled with an expected bump in grower pricing to accommodate the influence of input costs and competitive crops, will either normalize the engagement of mint producers in the region or be cause for concern with production from the region.
India/Asia
Harvest and production for/from the 2023 crop has been ongoing, with arvensis, piperita and spearmint yields having been as expected. As is typical, short-term and spot purchases have seen a $2-4/kg jump in price for smaller commodities like piperita and spearmint. With that said, existing Essex contracts and/or safety stock for these materials mitigates the price impact. A more prevalent issue, especially with piperita, is the lasting legality of using chlorpyrifos for pest control in Indian mint. New US and EU regulations, which ban the appearance of this material in finished goods, has made selection and approval of piperita lots more challenging and has been cause to encourage Indian suppliers to help align this global trend with production practices in India.
While the timing and availability of shipping containers continues to be an issue, it is much improved from 1-2 years ago. Essex is mitigating this challenge by allowing for greater lead times on foreign shipments, even though the need to consider alternate ports of entry has subsided.
Even though there were record quantities of Mentha arvensis and its derivatives produced as recently as 2020, resulting in historically low pricing, there has been only a small impact on planted acres since. This is largely due to the good shelf life of mint, once harvested, but is also an indicator that farmers in India have few other viable cropping options for the time of year in which mint is grown. Early crop estimates substantiate total production of 35-40,000 MT production.  Despite continued low pricing on arvensis and its derivatives, there is no indication from this year that product availability will be impacted. Essex has captured the benefit from this trend by being well contracted at highly favorable prices for Mentha arvensis derived oils.
The same stability does not apply to Indian piperita. Emphasis on pesticide free oils and  inflationary conditions in India have resulted in increased piperita spot prices, as much as 30%. Spearmint in India is more stable, with prices comparable to the 2022 crop, generally $30-34/kg. Essex has positioned itself well with a broad array of quality suppliers for both Indian piperita and spearmint.
Field Observations
Most Far West mint growing regions did not experience a harsh winter, and snowpack (i.e. moisture) across regions was generally very good, boding well for 2023 irrigation requirements. Across Pacific Northwest mint regions, cooler than normal early spring conditions resulted in mint stand development that was 1-2 weeks behind that of recent years but good weather in May has helped reverse that trend. It is expected that early harvesting will commence around the end of June, still in line with accommodating the development of a quality second harvest for double cut mint across regions.
Inflation and the impact of competitive crops in the Pacific Northwest has again been cause for speculation internationally that the US mint crop was braced for reduced overall production. With that said, and as mentioned previously, significant price escalation for peppermint is still expected and this is fueling doubts about short-term acreage and production projections for US mint.
Recent concerns among growers regarding input costs and the appeal of easier to grow and more profitable crops like corn and wheat have maintained a downward trend in planted acres. Risk of limited future supply is real, and can only be realistically counteracted by:
price increases to normalize the economic returns for mint with that for other crops.
Continued shifts to proprietary varieties of mint that offer income competitiveness to growers and yields to mint companies like Essex that allow for mitigation of price increases.
This aforementioned price adjustment will noticeably take effect in 2023, and it will be interesting to see if better pricing to growers is such to incentivize growers to maintain, and/or increase mint production, especially for peppermint.
Conclusions
There is always an element of risk involved in mint production, which has potential to impact Essex and its customers. Essex mitigates this risk by doing the following:
Working with experienced growers who know how to consistently deliver top quality mint oil with an emphasis on mutual loyalty.
Developing and offering unique mint varieties that are unavailable from any other supplier and that can be obtained at a premium price relative to conventional mint.
Globally diversifying our sources of raw materials
Maintaining a dedicated team of experienced professionals who are committed to delivering excellence to our customers.
It is this combination of traits and actions that makes Essex unique and an ideal partner for your mint oil needs. We are not successful if our customers are not pleased with our products, and we approach our business with this mindset every day.
~Matt Fagerness- Purchasing Manager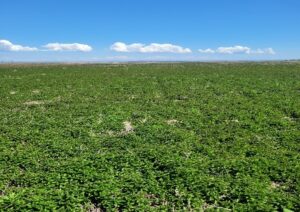 Essex Laboratories' Steen Variety